Taroudant and its beautiful Medina
Journey from Agadir: 1 hour 25 mins / 85 km
ARRIVAL VIA THE COL DU TIZI N'TEST ROAD
Our goal today: To reach Taroudant, a beautiful town in Souss Massa with all its simplicity and authenticity. Exiting from Marrakech, winding roads lead us towards the northern slope of the High Atlas. With the altitude, the landscape changes, the olive trees disappear and the almond trees present will soon bloom (beginning of the year).
At the Tizi-N-Test pass , (2100 meters), which takes us across the High Atlas, we decide to take a tagine / salad break. Obligatory break, we stop for the impressive view with its ballet of paragliders. The descent to Taroudant is majestic.
Taroudant is a simple and lively town where the charm of the 16th century ramparts is striking. This city is a former capital of Morocco, built by the Saadian dynasty to counter the Portuguese present along the Atlantic coast. The city walls, almost intact, were built in 1528 and reflect the glow of the setting sun, making it a great place for an evening stroll.
FAMILY WALK IN THE SOUKS
Behind their ochre walls, the souks of Taroudant have something magical. Once arrived in our Riad, we put down our suitcases and go directly to Place Assarag to visit the Artisanal Souk specializing in leather and silver work. A multitude of shops are there. After a while we don't know where to look.
Further along, one arrives at the place Talmeklat, where we find the souk intended for daily purchases of goods. A bunch of stalls and craft shops selling fruits and vegetables, clothes and kitchen utensils. It is a dynamic city where the inhabitants of the region negotiate the production of the rich and fertile plain of Oued Souss and the foothills of the Atlas.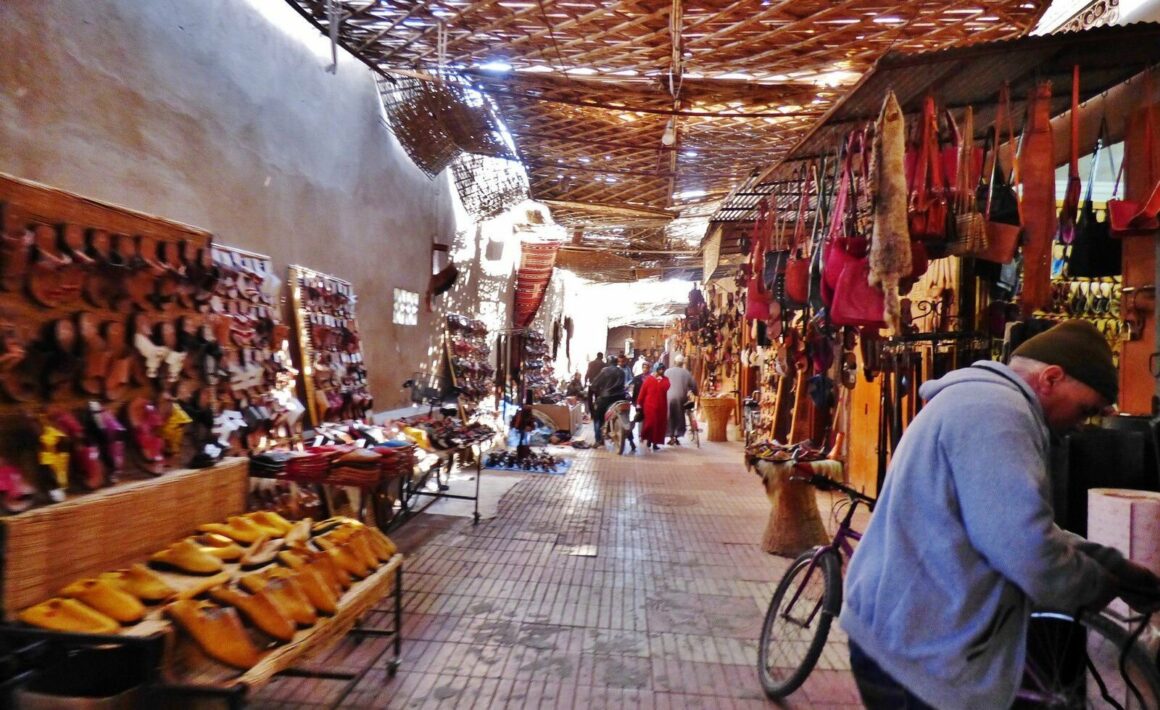 THE CLAUDIO BRAVO PALACE
With a taxi taken from Bab Lkhmis, we take advantage of the guided tour of the Claudio Bravo Palace which allows us to discover the work of the hyperrealist Spanish artist and his friends including Picasso. Fabulous collections of vases and ceramics are also present. Children roam the gardens relentlessly. Every detail of the Palace is thought out, we could dream for hours. Tea is then served to us in a pavilion overlooking a basin resembling a replica of the Menara. The place is sublime and we quickly understand why the artist fell in love with Morocco.
We must now return to Taroudant because the children ask us for a carriage ride. Inside the ramparts of Taroudant, we discover a city, peaceful and welcoming.
THE SAFFRON ROUTE – TALIOUINE
Tomorrow, we are going 100 km east to reach Taliouine, Capital of Safran (30.532388, -7.924233). We will be able to visit a cooperative specializing in the cultivation and processing of saffron and discover the Kasbah of Glaoui which is an architectural treasure of the region.
On the way back from Taliouine, we will make a detour via the Palmeraie de Tioute (30 km southeast of Taroudant), in the middle of a rocky plain. In the palm grove, the children have planned to go on a donkey ride. See you soon…